Bulk Up with Fuel for Fire
Order wholesale Fuel For Fire products for distribution in stores, gyms, athletic facilities & more, right from a computer or mobile device. Our wholesale pricing ONLY applies to gym owners, retailers, wellness facility operators, military and first responders, and healthcare providers. The pricing for wholesale is $24/case of 12 plus shipping (16 cases + qualifies for free shipping) compared to the retail price of $35.99/case.
Create an account to begin your order. Log in to place, track, and manage your orders right online.
Delicious Whey & Plant-Based Protein Smoothies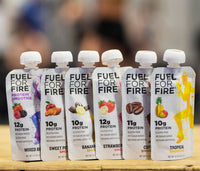 Original Flavors
Made with 10-12g of whey protein isolate and real fruit. Fuel For Fire is the perfect snack before, during, or after exercise. Our products are approved by the Collegiate and Professional Sports Dietitians Association and used by thousands of athletes across the country. Flavors include Strawberry Banana, Banana Cocoa, Tropical, Sweet Potato Apple, Mixed Berry, and Coffee. Each are 4.5 oz. and do not require refrigeration, but taste great cold!
WHEY FUEL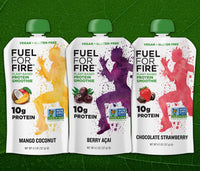 Plant-Based Protein
Choose from 3 Plant-Based Protein Smoothie Options. Berry Acai, Mango Coconut, and Chocolate Strawberry. Made with 10g of pea & brown rice protein. 100% vegan, dairy free, and gluten free.
Plant-Based Fuel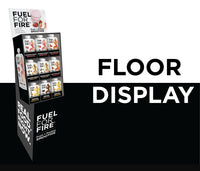 Original & Plant-Based Displays
Advertise Fuel For Fire Protein Smoothies with one or both of our high visibility point-of-purchase displays. Both the Original and Plant-Based Displays come with 54 packs of product. Each Display is FREE. We only charge for the packs. The display catches your attention and makes your members/athletes aware that you carry Fuel For Fire.
Floor Displays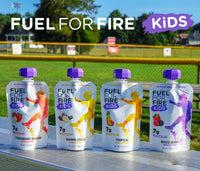 Kids Smoothies
We took four of our original flavors and made them into kid sized snacks! These 3.2 oz. pouches are perfect for active kids of all ages. Made with 7g of whey protein isolate. Available in Strawberry Banana, Banana Cocoa, Tropical, and Mixed Berry.
KIDS FUEL